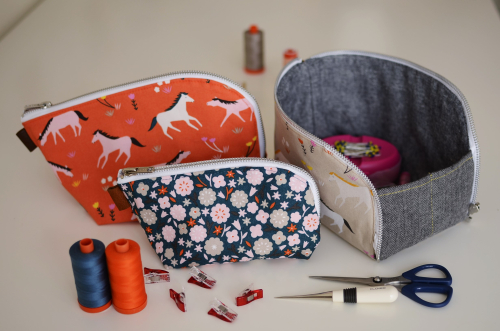 Open-Out Box Pouch
Cost: $35 + supplies
with Kathleen Kaiser
Skill Level: Experienced Beginner
Sat. 6/1 9:30-11:30AM
The third part of the Aneela Hoey bag series is the Open-up Box Pouch, a fun bag that uses a separating zipper to open out into a box to hold all of your sewing or crafting supplies! This class is the third part of a 3-part bag sewing series — If you sign up for all three classes together, each class is only $25 each!
The designer says:
"This one has been on my brain for a while – I wanted to create a fairly standard looking zip pouch that magically expands into a box shape when open.  This means that you can easily see and grab what you need then zip it up to keep contents secure when not in use.  It's a fun project to sew and has so many uses – perfect for projects, tools, travel, kids and more!"
Students must be comfortable using a sewing machine.